Ouro Mining Inc. ("Ouro" or the "Company") is establishing the Heavener underground coking coal operation in Arkansas, USA. The Heavener Project is planned to produce an average of two million tonnes of saleable coking coal per annum from a punch longwall underground mine, over a planned twenty year life-of-mine.

The Heavener Project is situated in Le Flore County, Oklahoma and Scott County Arkansas and is part of the Arkansas Valley Coalfield and is 100% owned by Ouro. The previous owners, Farrell Cooper Mining Company (FCMC), completed open cut mining of the Project in 2006, producing unwashed coking grade coal for local and overseas customers.

The Project tenements comprise six (6) coal leases, totalling approximately 27.72 square kilometres adjacent to each other and contain an estimated 201 million tonnes, more or less, of proven and probable coal reserves and resources (JORC compliant).

Weir International completed the Heavener Project feasibility report and JORC resources statement in 2013. An average mining recovery of 50 percent was applied to the in-place Resource outside the Life of Mine Plan and 61 percent within the Life of Mine Plan. JORC Reserves within the Life of Mine Plan are 54 million tonnes with a production yield of 33 million clean product tonnes. Potential also exists to increase production within the current twenty year Life of Mine Plan.

The Ouro Project Group have been actively developing the project since mid-2012, commencing with definition drilling to establish JORC reserves and resources, leading to full mine design and washplant design through 2013. During 2014 and 2015 Ouro has continued to de-risk the Heavener Project undertaking the following key activities:
Planning for trial burn met coal shipments to overseas prospective overseas customers and capital markets activities;
A surface to in seam (SIS) drilling programme over six months completed in February 2015 along the planned site of the first Gateroad;
Installation of a degassing wellhead and methane gas production from the coal seam in March 2015;
Continued strategic tenements acquisitions and surface rights agreements negotiation and renewal;
Power infrastructure design and transmission route survey and approvals;
Coal Quality Improvement Program;
Develop a coal process sheet for CHPP design; and
Continuing environmental, permitting and land management activities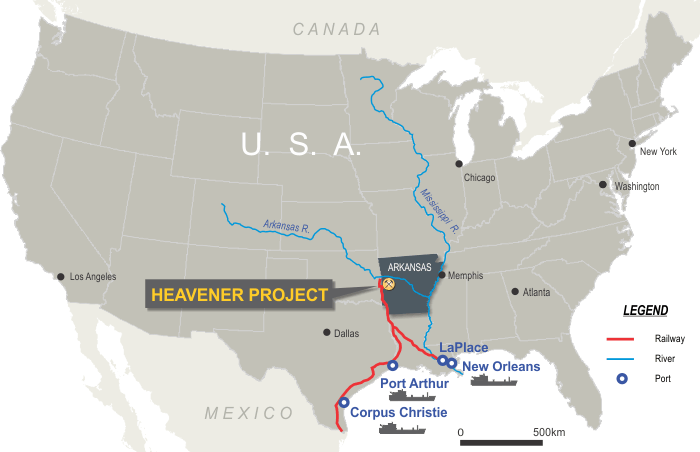 Ouro plans to build a coal washery on site, which is several hundred metres north of the Kansas City Railway line. This railway line accesses the Ports of New Orleans (Louisiana) and Port Arthur (Texas) as well as a western seaboard port of Lazaro Garden as (Mexico). Coal can also be trucked to ports on the Arkansas River (Keota or Van Buren) and barged down the Mississippi river for offshore loading at New Orleans. Both of these transport methods are used for material bulk transport in the area.
The Lower Hartshorne seam within the Heavener Project coal leases is one of the thickest coal seams in the entire Arkansas Valley Coal Field. The seam dips between 8° to 16° to the NNW in the Heavener area and varies from 1.5m to 4.5m thick. There is insignificant faulting or folding noted in the entire 18kms that were open cut mined by the previous operators.